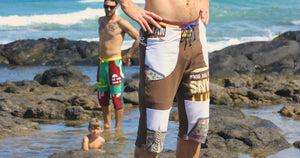 Mens 'Opihi Picker Below-Knee Shorts
---
They used to be t-shirts, now they are your feeling-funky go-to shorts. Below the knee. Relaxed fit. Great for the garden or playing pirates with the kids. Pockets for your hands in front, pocket for your cell phone in back. Elastic waist and drawstring for great fit and comfortable style. Keep a pair in the truck to hop into after the beach.
Size Small (30-31"), Medium (32-33"), Large (34-35") & XL (36-37"). 
Just a suggestion: Hang loose!